---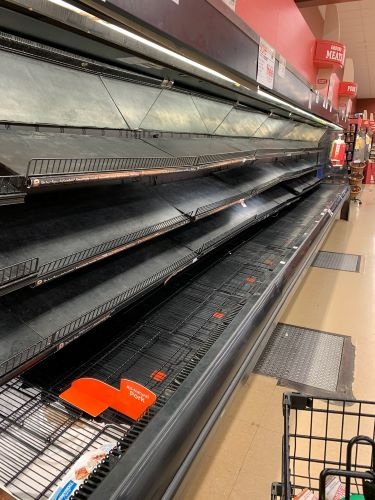 Poutine is a Quebecois slang word meaning "mess." I consider Poutine to be a comfort food i seek out, especially on a cold day. Whether it's cold or not, who won't benefit from a little comfort now a days? Before caution about Covid-19 was heightened, we ran to the market to stock up on some items. Many of you probably had the same problem we had: most of the items still available were very random and hard to combine. Fast forward a week and a half later, we pieced together some items and gave "Poutine" our best try.
Although many chefs have created their own versions of Poutine, carefully constructed with their own assortment of toppings, the dish is composed of three main ingredients:
Crispy French Fries
Cheese Curds
Brown Gravy.
Before i continue i want to say upfront, yes: our dinner was delicious, no: this is not a recipe you should follow, no: the heart burn was not worth it. With that said this is what we got out of it: Fries, Cheese, Sauce. We began our quarantine dinner by baking off half a bag of store bought frozen fries. When the fries were nice and crispy we added store bought pre shredded white and yellow cheddar. We put the fries back in the oven until the cheese was nice and melted.
Next we made the -WORST- sauce ever… but it tasted really good. We browned turkey breakfast sausage, deglazed with an IPA, and added butter. When we finished, we realized the sauce was neither thick enough or enough all together to coat our fries. Still, we didn't give up hope. To our "sauce" we added mayo, a little ketchup, and a small spoon of whole grain spicy mustard. We finished with a squeeze of lemon juice, salt and pepper.
That takes care of the three main components: Fries, Cheese, and a Sauce. Next step was to add our "toppings". We diced up that breakfast sausage we talked about and mixed it with sautéed red onion and chopped cilantro. Spoon over your fries and voila!
We hope this provided some comedic relief to your day! Life is anything but perfect right now but we are reminded daily that humanity is in this together. Post your quarantine dinner to story and tag us! We will be sharing it on our page!